50 Years of Solar System Exploration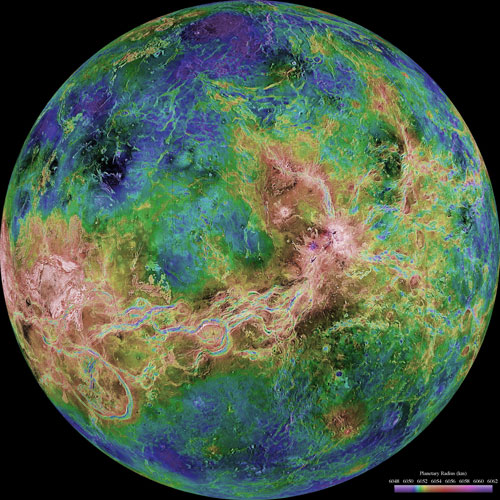 Hemispheric view of Venus
Image Courtesy NASA
The five-decade-old planetary exploration first began in December 1962 when Mariner 2 flew past Venus, the first successful mission to another planet. These missions were conducted by robotic spacecraft that were able to venture deep into the cosmos, where no human dared.
Voyager 1 and 2 were launched in 1977 – and more than thirty years later are still up there, at the very fringe of our solar system, studying Jupiter, Uranus, Saturn, and Neptune, sightseeing their moons, sending close-ups of their rings and discovering solar winds – typical tourist activities! This is the farthest a human-made object has gone to. It is over 9 billion miles away, travelling 1 million miles a day, and may very soon, waltz its way beyond the frontier of the sun's heliosphere and enter interstellar space. On December 4, 2012, Voyager 1 was busy exploring a new region in our solar system called the 'Magnetic Highway' - a fast-lane highway of sorts, where instead of fast cars there are particles from inside the heliosphere zipping away and particles from interstellar space zooming in.
Mars already has a couple of vehicles from Earth on its surface – inching their way forward every day, having fun diving within craters and then climbing up again. Sounds like fun!
There is a lot that is happening elsewhere in our solar system.
SALT zooms up to the planets to observe some of the Earthly activities there.
Read the entire article in the print edition of The South Asian Life & Times
subscribe@the-south-asian.com