Suman Nalwa
Addl. Dy. Commissioner of Police, Delhi

on

Violence against Women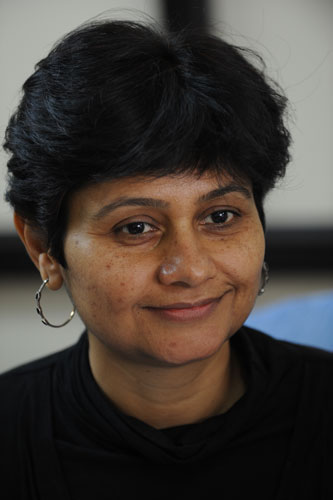 Suman Nalwa heads the Special Police Unit for Woman and Children in her hometown Delhi. Despite her demanding hours especially following the horrifying gang-rape of the 23-year-old student in Delhi, Suman managed to find time to answer our questions. SALT shares her views with its readers.
Why does rape, and particularly gang rape, happen? Is it an act of aggression, or a sexual act?
It is definitely an act of aggression but in a state like Delhi where we have many migrant workers from other states staying away from their families, the element of sexual deprivation cannot be discounted. The status of women has remained low and coupled with that the social alienation is so huge that there are no social repercussions of such behaviours.
What's the proportion of rape to other crimes in Delhi?
There were 520 cases of rape registered in Delhi this year - till 15th December, 2012.
(Sadly, this statistic has moved up since – the fatal gang-rape occurred on the night of 16th- Editor)
What is the Delhi Police doing to ensure the safety of women in the NCR?
1. Gender sensitization
2. Deployment of Police Control Room vehicles near women's colleges and other sensitive spots
3. Ensuring that unlit pathways are repaired timely by the concerned agencies
4. Women's help desks in every police station
5. Presence on the web. We have a website spuwac.com on women's issues to educate women on their rights and how to report.
6. Outreach programmes of my special unit to teach basic self-defence techniques to women and girls in schools, colleges and community and also to educate them on laws relating to women.
7. Women helpline 1091- for women in distress
8. Anti-obscene call helpline and anti-stalking helpline - 1096
About Suman Nalwa
Suman is a DANIPS officer (1996) having served in Delhi and Andaman and Nicobar Islands as well. Presently she is posted as Addl. Dy. Commissioner of Police in Special Police Unit for Woman and Children, a nodal unit of Delhi Police on women's and children's issues. She has also served in the Crime against Women and in Anti-Corruption Units.
An electronics engineer by profession, Suman Nalwa also holds an LL.M. degree in International Human Rights Law from University of Essex, UK. She has co-authored several books including her most recent - "Room 103, Nanakpura Thana". Through her books she has ventured into the tragic world of the abandoned and dejected women who are the victims of dowry-demand.
Read the entire article in the print edition of The South Asian Life & Times
subscribe@the-south-asian.com