Kiran Bedi
on
Violence Against Women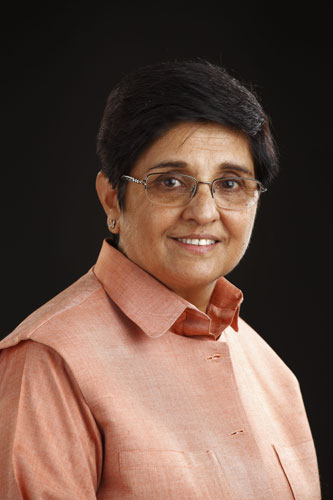 "The women of India are paying the cost of official negligence, ignorance or callousness with their lives. This has to be unacceptable any further. Women must demand security as their primary-fundamental-human right." – Kiran Bedi
Considered by many the Voice of the People, the former super cop Kiran Bedi – India's first woman police officer – now wears another garb – that of social activism. Kiran has been the collective voice of the nation against corruption and violence against women. SALT met her the day after the heinous crime took place in Delhi. The city was still stunned and under shock by the brutality of the six savages.
Was the horrific gang-rape of the young medical student a preventable crime?
Those of us who gave 'all of ourselves' to police service will say, "Yes it was preventable. If basic-daily home work is done. Be it a cosmopolitan city or anywhere".
Women in particular are suffering huge albeit avoidable harassment and insecurities. Their mobility, creativity, and growth are being restricted due to essential daily homework not being done by public officials, whose duty it is to do so! What is worse is the fact that these public officials go unpunished, because their supervisors either do not know the nuts and bolts of basic policing or they have misplaced priorities.
We the women of India and our families are paying the cost of official negligence, ignorance or callousness with our lives. This has to be unacceptable any further. Women must demand security as their primary-fundamental-human right.
Therefore citizens of this country must know what it is that our public officials must immediately put in place to prevent any re-occurrence of such gruesome crime against women. Many of us cops believe this kind of heinous crime and many others are preventable!
Read the entire article in the print edition of The South Asian Life & Times
subscribe@the-south-asian.com