'Speaking Stones'
- World Heritage Sites in India
by
Veena Malik



Eicher's new book on World Heritage Sites in India….Guide for the traveller in a hurry.
A new book takes tourists on a guided tour of the 17 world heritage sites of India….

'Speaking Stones' published by Eicher Goodearth, with support from the department of tourism, contains information on all the 17 heritage sites in India that include the Qutab Minar, Humayun's Tomb, Agra Fort, Taj Mahal, Fatehpur Sikri, Sanchi, Khajuraho, Elephanta, Ajanta Caves, Ellora Caves, Old Goa, Pattadakal, Hampi, Brihadisvara, Mamallapuram, Konarak and Darjeeling Himalayan Railway. Without going into too many details, it provides elementary information---how to reach, where to stay and the best time to visit these sites.
Eicher, the tractor manufacturing giant in India, have a division that has been publishing travel-related books, including Guide to Delhi, Walking With Buddha as also the City Map of Delhi." All our books provide specialised travel information. The latest one on world heritage sites also is an effort in that direction," says Swati Mitra, publishing head of Eicher Goodearth.
Until recently, very few people were aware of these heritage sites - apart from Taj Mahal. It was only when they were declared world heritage sites, that they caught the imagination of tourists and went into the itineraries of most tour operators and now all have become big foreign exchange earners for the country.
The coveted title of a world heritage site is granted by United Nations Educational, Scientific and Cultural Organization (UNESCO). To qualify for the status, a site must possess the following attributes: It should represent a masterpiece of human creative genius, exhibit an important interchange of human values over a span of time, be an outstanding example of type of traditional human settlement or land-use, especially when it has become vulnerable under the impact of irreversible change.
All the 17 sites in India meet these criteria. Located in different parts of the country, they may not be easy to visit in one go. Interestingly this is where this little book is of help. " Unlike all the travel books and guides, which follow the sites in a historical or chronological sequence, we have grouped the sites in a sequence that is most practical from the travellers' point of view." says Mitra, a Masters in history with a publishing degree from Brooks University in Oxford.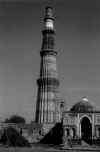 Delhi - the gateway to 7 of the 17 heritage sites.
Delhi is the most convenient place not just for its two world hertiage sites---Qutab Minar and Humayun's Tomb but because of its proximity to the Taj Mahal, Fatehpur Sikri, Agra Fort, Sanchi (Buddhist stupas, temples and monasteries in Madhya Pradesh) and Khajuraho (also in Madhya Pradesh).
Mumbai can provide opening for a traveller to visit the Elephanta (a cave near the Mumbai harbour devoted to Lord Shiva), Ajanta (caves consisting of Buddhist prayer halls and monasteries in the forest of the Western Ghat) and the Ellora Caves (nestled in the crook of the Charandari Hill in the Deccan).
Besides, Mumbai is also the gateway for Old Goa (See Cathedral Basilica of Bom Jesus,Church and Monastery of St. Augustine, Se Cathedral, Church of Our Lady of Immaculate Conception, Church of St Francis of Assisi, Church and Convent of St Cajetan, and Church and Convent of St Monica - Goa's first Convent for nuns.
Says Mitra, " The best way to do justice to the world heritage sites of Old Goa, is to first visit the group of three big churches---the Basilica of Bom Jesus (housing the mausoleum of Saint Francis Xavier), Se Cathedral (the largest cathedral in Asia) and the Church and Convent of St Francis of Assisi. Thereafter, visit the Chapel of St Catherine and the ruins of the Palace of the Inquisition."




Bangalore - easy access to Hampi

Similarly, Bangalore is a gateway to Pattadakal (the site for famous temples like Mallikarjuna, Papanatha, Virupaksha, Durg) and the other world heritage site of Hampi (the seat of the old Vijayanagar empire).

Chennai provides a gateway to Brihadisvara (temple of Lord Shiva built during the Chola dynasty) and Mamallapuram, which is 58 kilometres from the city airport (work of Pallava dynasty relating to Shore Temple, rathas-stone hewn shrines shaped as temple chariots).

Kolkata is the gateway for Konarak (Chariot of the Sun God on the Orissa coast) and the Darjeeling Himalayan Railway [DHR] the magical railway that daily hauls trainloads of men and materials up a steep gradient of 2,000 metres. It is the most outstanding example of a hill passenger train.

Says Mitra, " The important features and history of each heritage site have been discussed in the book. For example, the great attraction of the Thanjavur temple is its magnificent srimivana, that rises 66.8 metres from the base and is divided into 13 talas or storeys. Then there is Vitthala Temple built by Krishna Deva Raya in Hampi. Here a highly decorated maha mandapa, an open pavilion with 56 intricately carved pillars, is attached to the main sanctum.

Or, take the case of another world heritage site---the Agra Fort. According to the book, it established the model for all Mughal forts that followed. Akbar himself built forts in Lahore, Allahabad and Fatehpur Sikri, resembling this masterpiece. His grandson, Shahjahan, built the fabulous Taj Mahal in Agra and Red Fort in his new capital city of Shahjahanabad (later known as Delhi), using virtually the same design.

Speaking Stones : World Cultural Heritage Sites in India is not a coffee table book but a utility guide for a traveller who wants stripped down information. Priced at Rs. 270 it is peppered with photographs and drawings - spread in 264 pages. It also gives information on visas, air connections, airline offices, train timings and hotels.

" It was very exciting to work on cultural heritage. But I feel India has more than 17 sites. We should try and get world heritage status for historically significant places like the Red Fort in Delhi, Gateway of India in Mumbai, Hawa Mahal in Jaipur and Charminar in Hyderabad, " says Mitra.