Page 1 of 2
Benoy Behl - Documenting the Art of India
by
Mukesh Khosla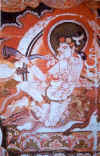 Art historian Benoy Behl is on an unusual journey of discovery that will take him to over 100 cities covering 58,000 miles. His mission---to photo-document works of Indian art down the ages, now lying in different parts of the world…

For 15 years now, Benoy Behl, a 42-year-old conservationist has been traversing remote areas in search of Buddhist art. From the monasteries of Ladakh to the caves of Ajanta, Behl and his
partner, Sangeetika Nigam, have been photo-documenting ancient Indian paintings and frescoes for posterity.
In fact, the two have not just captured this priceless legacy on film, but in the case of the Ajanta paintings, they have digitally restored 33 photographs of the paintings that have suffered discolouration, defacement and other natural processes of deterioration.
" We wanted to show the great works in their original glory," says Behl referring to the seventh century Ajanta paintings. The caves, discovered in 1817 in a Maharashtra village, once formed a Buddhist monastery and the frescoes and carvings decorating their walls are a priceless record of ancient art.
The cave paintings are considered by many as the oldest form of art in Asia. Behl and his team researched each of these before photographing them and then digitally restored the pictures to show what the original masterpieces must have looked like.
" There was no guesswork involved but a lot of painstaking research done with the help of experts from the Rochester Institute of Technology in the U.S.," says Behl. Such was the accuracy of the restoration that a king depicted in one of the paintings was believed to be wearing a shawl that has patterns of ducks. But on restoration it was discovered that it isn't a shawl but a vest."
The restored photographs will be shown as a part of a series of 26 documentaries being made by Behl projecting the history of Indian paintings spread over a hundred cities around the world.
The series titled 'The Paintings of India' are the first of its kind and will be aired on the Indian National channel Doordarshan after completion. The documentaries will cover different phases of Indian art - from cave paintings to murals - and from miniatures to the illustrated manuscripts and down to contemporary art.