Mars 2011 & Beyond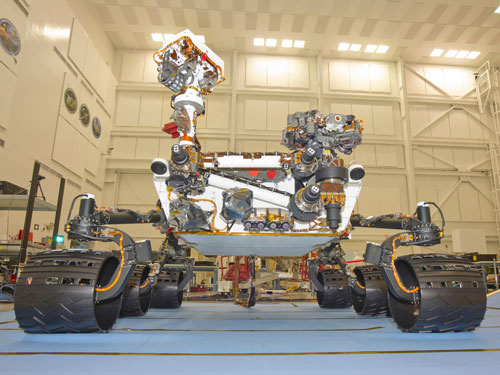 Scheduled to launch on November 25, 2011, Mars Science Laboratory rover, nicknamed Curiosity, will reach the Red Planet sometime in August 2012 – after journeying a distance of over 300 million miles in nine months. Its mission - to determine the planet's "habitability."

Photo Courtesy: NASA
No other planet in our solar system has captured human imagination as much as the red planet. Almost 400 million kilometres away, it takes close to ten months to get there from Planet earth. The terrain is a geological buffet – mountains, towering craters, long and deep canyons, polar caps, alluvial fans, and more. There is water too - but not to drink. It is a frozen desert with evidence of ancient river beds and vast oceans, which indicate a warmer, wetter past. Yet, the obsession with the Red Planet persists.
Beginning with fly-bys, and then orbiters, the past three decades or more have witnessed robotic missions using landers and rovers. Most missions to Mars have been outright failures. Some exploded on the launch pad, some were lost in space and others simply crashed on touchdown. But the ones that got there have had stupendous success.
November 25, 2011 will see the launch of a rover - Mars Science Laboratory, aka Curiosity - larger and more powerful than anything ever sent to the Mars surface. It will land in Gale Crater sometime in August 2012 and get to work almost immediately.
Read the entire article in the print edition of The South Asian Life & Times
subscribe@the-south-asian.com