The Men Inside VJM04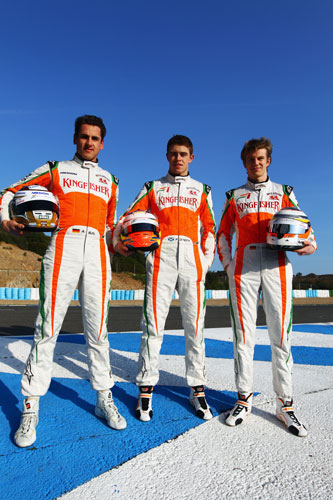 L-R: Force India drivers Adrian and Paul and Reserve Driver Nico
Adrian Sutil
Force India Race Driver since 2008
Age: 28
Nationality: German
Born: January 11, 1983 in Starnberg, Germany
Height: 183 cm
Weight: 75 kg
Languages: German, English, Spanish and a little bit Italian
Other interests: Hanging out with friends, cycling, running, computer games, listening to music, watching James Bond and Alfred Hitchcock films
Highest championship position 11th (2010)
No. of races 71 (end 2010)
Adrian is one of Formula One's most consistent and highly-rated young drivers. One of the twenty drivers who enjoy a regular cockpit position at the very highest level of motor sport, Adrian has been with Force India since the team was born.
Paul di Resta
Force India Race Driver – Rookie season
Age: 25
Nationality: British
Born: April 16, 1986 in Uphall, West Lothian, UK
Weight: 1.85m
Height: 78kg
Marital Status: Single
Other interests:
The 2011 season is Paul's F1 race debut. The young Scot joined the team in late 2009 as Force India's test and reserve driver. Though not box office yet, Paul di Resta is one of the three British drivers in Formula One. The other two are Lewis Hamilton and Jenson Button, back-to-back world champions. But Paul has probably had the most successful season of the trio to date.
Nico Hülkenberg
Test & Reserve Driver, Force India
Age 24
Nationality: German
Born: August 19, 1987 in Emmerich, Germany
Height: 184cm
Weight: 74kg
Marital Status: Single
Poles1 (Brazil 2010)
Total points 22
Highest championship position14th (2010)
No. of races19 (end 2010)
Nico's strong performances and impressive rookie form in last year's F1 championship, including a sensational pole position in Brazil, earned him a place in the team as a test and reserve driver.

Read the entire article in the print edition of The South Asian Life & Times
subscribe@the-south-asian.com