Royal Wedding in Bhutan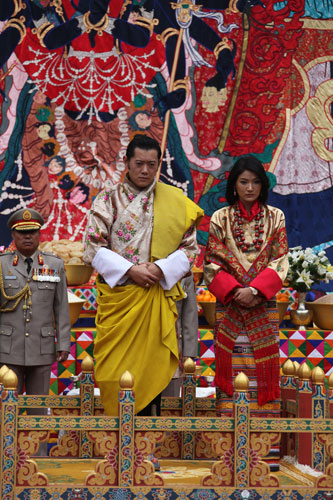 King Jigme Khesar Namgyal Wangchuck and Jetsun Pema before their wedding ceremony
The fairy–tale wedding of King Jigme Khesar Namgyal Wangchuck of Bhutan – the fifth Druk Gyalpo ('Dragon King') to Jetsun Pema, captivated this beautiful Himalayan kingdom since the time the engagement was first announced in May 2011. The 31-year-old Oxford-educated king, known for his reformist views, married the 21-year-old Jetsun Pema, the daughter of an airline pilot, in a 17th century monastery in the old capital of Punakha, where thousands of people from surrounding villages had gathered to wish the king and the newly-crowned queen on their special day. This was the first royal wedding since the fourth king's marriage in 1988 – an entire nation was looking forward to this much-awaited celebration.
The Bhutan Royal Wedding, was not a star-studded affair like the year's other royal wedding - of William and Kate- but it was just as, if not more, elaborate and colourful. There were no heads-of –states, no foreign royalty, and no global celebrities at the wedding. "The whole theme of the wedding was to keep it a simple family affair, that is - the Bhutanese family," said a government official. The rest of the country's 700,000 people watched the wedding live on TV.
The three-day celebrations began on the early morning of Thursday, October 13 at an auspicious time determined by royal astrologers. Chants, drums, trumpets, red-robed priests, and flag-bearers set the scene, as the king, wearing the royal yellow sash over a golden robe with red flowers, walked into the courtyard of the ancient fortress and climbed the steps that led to the monastery. A few minutes later, the bride arrived, wearing the traditional wraparound skirt with a gold jacket, and followed him inside.
During the hours of ceremonies inside the monastery, the wedding rituals began with a purification ceremony for the couple and concluded with the king placing a smaller crown on his bride, after which she took her place as the new queen, and sat beside him.
The following day the royal couple returned to the capital Thimphu. Thousands of people had lined the entire route from Punakha, to catch a glimpse of their King and Queen. The young couple got out of their vehicle many a times to greet the people and the three-hour drive to Thimpu turned into a thirteen-hour journey !
The royal wedding festivities drew to a close on Saturday in a grand party in Thimphu. The new queen's gorgeous traditional dresses, worn over the three days of celebration, were stunning and so very elegant.
The immensely popular King Jigme Khesar Namgyel Wangchuck has ushered in development reforms in this deeply traditional nation. Bhutan is considered one of the happiest countries in the world. The concept of "gross national happiness" was introduced by the King's father – the fourth Druk Gyalpo.
Read the entire article in the print edition of The South Asian Life & Times
subscribe@the-south-asian.com