Kumud Diwan
Contemporary Queen of Thumri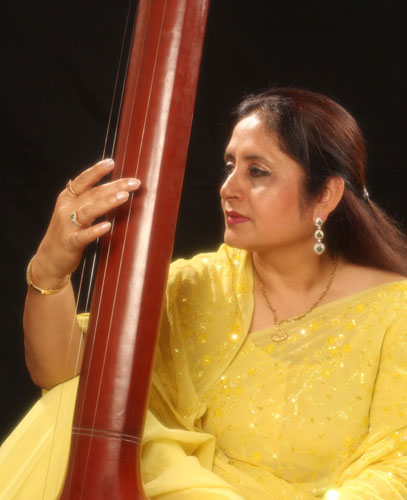 Kumud Diwan sat on stage at Azad Bhawan a few weeks ago ... In jugal bandi with Kathak exponent Shovana Narayan – the duo were celebrating and recreating Delhi's music and dance legacy of 100 years ago - the era of mehfils, of refinement, of patrons with artistic tastes. The response to Kumud's lively Dadra (a lighter form of Thumri) and Shovana's delicate steps was one of euphoric adulation.
Six-year-old as a performer, Kumud Diwan may well be the contemporary queen of Thumri - a genre of semi-classical music known for its sensuous expressiveness.
Kumud's style is an eloquent blend of joy and musical sophistication. Her impact is deep and lasting. For our western readers, her voice has the power and force of Nina Simone – minus the pain. There are only two words to describe Kumud's voice – tremendous joy.
The story of her meteoric rise to centre-stage is the stuff that dreams and dedication are made of. Her transition from corporate culture to 'court' culture was almost overnight. Kumud, with a doctorate degree in Business Studies, was in a demanding job with Citibank, when her young son fell ill in 2000. She gave up her hectic lifestyle to be at home with her son and also found time to pick up the lost threads of musical training she had imbibed as a child of nine. Taught by stalwart gurus like Shanti Hiranand Ji, a disciple of Begum Akhtar, and Pandit Chhannulal Mishra Ji, the rest as they say is history. She has performed in the same festivals as Pandit Jasraj, Rajan-Sajan Mishra, Ashwini Bhinde, and Ustad Shahid Parvez. Her renditions bring back to mind the nostalgic memories of old masters.
Kumud is married to Pradeep Diwan, a chartered accountant who "comes from a Punjabi family where classical music is not on their 'menu'. I use the word 'menu' because they are strongly into food. But he understands and appreciates my talent. Initially he thought it was all a joke, but now he is proud of me. Professionally he is so busy that at times he cannot attend my concerts even in Delhi." says Kumud.
SALT met Kumud on a December afternoon for a chat to share her story and her views, in first person, on what it's like to be a classical musician in the present times.
Read the entire article in the print edition of The South Asian Life & Times
subscribe@the-south-asian.com