Women Of The Year

"Despite the global focus on violence against women, the reality on the ground shows that violence against women remains the most prevalent and pervasive form of human rights violations that exists, whether in times of peace, conflict, or post-conflict."
Nothing has changed much in the status of women at home, or elsewhere in the world. Verbal, physical and sexual abuse/violence against women continues to occur at all levels – from the home to the public spaces outside the home to the transnational arena. The failure of the State to prevent and respond to violence against women is a violation at yet another level. But accountability for sexual violence, without subjecting the woman to further degrading and humiliating processes, is possible - if there is political will.
Despite the unique challenges they face, many women have risked everything - their lives and honour -to help women in countries where they are routinely ignored and violated. Some have faced harsh and brutal regimes to protest for the rights of their countrymen. SALT honours the work of these brave and courageous women.
Maria Bashir

Chief Prosecutor of Herat Province - 'The Taliban Hinterland'
Afghanistan's only female chief prosecutor Maria Bashir, 40, has defied death threats to fight corruption, crime and domestic abuse, including forced child marriage. Afghanistan's laws protecting the rights of women are seldom enforced and often ignored. "Efforts are needed in enforcing justice. I personally am aware of many cases of violence, particularly against women, when the court issues a sentence, but, due to the lack of enforcing power, it is not implemented. This must change", says Bashir. In 2010 she handled 87 cases on behalf of victims of domestic abuse, including forced child marriage.
Read the entire article in the print edition of The South Asian Life & Times
subscribe@the-south-asian.com
Neelima Mishra

A clinical psychologist from Bahadarpur village in Maharashtra, Neelima chose to give up her career as an urban professional. Five years after finishing her studies in 1995, Neelima returned to her village to organize Bhagini Nivedita Gramin Vigyan Niketan (BNGVN), or Sister Nivedita Rural Science Centre, named after an Anglo- Irish missionary who devoted her life to helping Indian women of all castes. BNGVN did not begin with a development model in mind, except the conviction that the community's problems must be addressed from within the village itself. Inspired by Gandhi's vision of a self-sufficient, prosperous village, Neelima decided that her group would not work out of the priorities of donors, or compete for government-funded projects. People would identify and solve their problems themselves. Neelima encouraged the village women and told them repeatedly "Don't despair, we shall find a way."
Read the entire article in the print edition of The South Asian Life & Times
subscribe@the-south-asian.com

Christine Schuler-Deschryver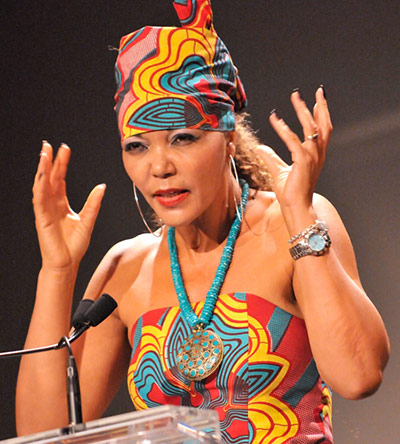 Christine Schuler-Deschryver, a Belgian/Congolese woman, set up and runs City of Joy, a centre for survivors of gender ­violence in Bukavu, the Democratic Republic of the Congo. The centre has become a refuge for rape victims in a country known as the 'rape capital of the world'. The humiliated and injured women, many with terrible injuries from repeated gang rapes, who arrive here, get healed and are literally reborn here.
TAWAKKUL KARMAN, ELLEN JOHNSON SIRLEAF, LEYMAH GBOWEE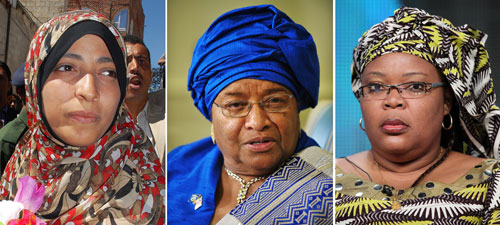 NOBEL PEACE PRIZE-WINNERS
The Nobel Peace Prize 2011 went to three women: Liberian President Ellen Johnson Sirleaf, Liberian 'peace warrior' Leymah Gbowee, and Yemen's Arab Spring activist Tawakkul Karman, who has long pushed for change in Yemen.
Only 12 women had ever received the Nobel peace prize. This year it was awarded to three. Each has risked everything to help women in countries where they are routinely ignored or violated.
Aung San Suu Kyi
Set To Run For Elections – April 1, 2012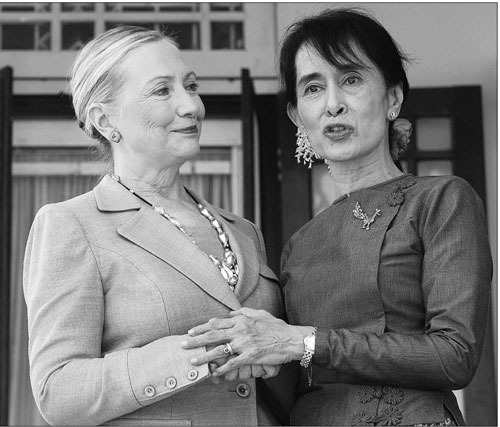 Hillary Clinton, US secretary of state, visited Suu Kyi in December 2011 - the first official visit by the US in 50 years.
The Nobel laureate's peaceful protest triumphed when she was released a year ago from decades of house arrest by the military regime. Suu Kyi, the leader of Myanmar's main opposition movement, has come to symbolise the face of democracy in Myanmar. Secretary of State Hillary Rodham Clinton visited Myanmar in December 2011 to encourage democratic change. Elections are scheduled, and will be the first electoral test for the National League for Democracy since 1990.
Suu Kyi has spent almost two decades in isolation or under house arrest, she has never met her grandchildren and was unable to visit her husband Michael Aris before he died of cancer on his 53rd birthday in 1999.
Read the entire article in the print edition of The South Asian Life & Times
subscribe@the-south-asian.com