SALT Book Picks 2011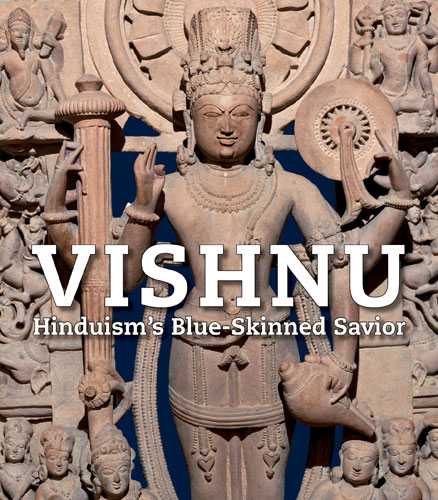 Edited by Joan Cummins
Published by Mapin Publishing Pvt. Ltd.
Hardcover, 286 pages, 236 illustrations; $75
Vishnu, one of Hinduism's holy trinity, is known by many names in mythology – but first and foremost he is a savior – the Preserver. While Brahma creates and Shiva destroys, Vishnu combats chaos and brings balance and order on Earth. He is also the most worshipped deity. Though a composed and a tranquil God, he has at times taken extreme action to protect and maintain order in the chaos. This book reveals how and in what form. It introduces Vishnu through art.
The legends of Vishnu are presented together with illustrations his role as savior and at times his participation in creation and destruction.
But the bulk of the book is on the avatars of Vishnu usually celebrated as a group of ten (Dashavatars) There are separate sections on each of his avatars – Matsya the fish, Kurma the tortoise, Varaha the boar, Narasimha the man-lion, Vamana the dwarf, Parshurama the Brahmin, Rama the prince, Krishna the cow-herd prince, the Buddha, and Kalki – the avatar of the future. The heroes of India's two great epics – Ramayana and Mahabharata were identified as avatars of Vishnu (Ram and Krishna).
Though it is a companion book to the exhibition on Vishnu, bearing the same title – it is not a catalogue. It is a non-esoteric introduction to the icons, myths, and traditions of Vishnu, written in a style that makes the stories and characters enjoyable and easy to understand. It is tranquil and serene – just like its subject.