Dr Karan Singh
The Modern Renaissance Man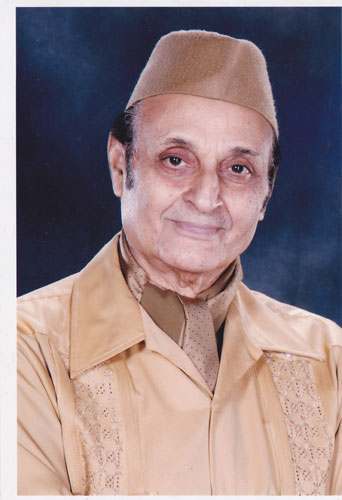 Described by many as the conscience-keeper of the nation, Dr Karan Singh has inspired generations to a deeper appreciation of our responsibility to the nation, to society, and to the environment. His mastery of multiple disciplines – including Literature, Music, and Arts – together with his curiosity about the world, makes him a unique phenomenon. A prince-poet-philosopher-politician, he has set the gold standard for all of us – especially the politicians and those in position of power.
Dr Karan Singh was born on March 9, 1931 in Cannes, France, the only son of the ruling family of the State of Jammu & Kashmir, one of the largest of the hundreds of Indian States within the British Empire. His father was Maharaja Hari Singh, the ruler of Jammu & Kashmir, and he was hence born a Crown Prince – Yuvraj Karan Singh. He was only eighteen when he was appointed Sadar-i-Riyasat (Regent) in 1949 and served the State in that capacity and as Governor for the next eighteen years of his life. Having joined the Congress party, he was at the age of 36, the youngest person ever to become a Central Cabinet Minister and headed, at various times, the ministries of Tourism & Civil Aviation, Health and Family Planning, and Education and Culture. Currently, he is MP in the Rajya Sabha, President of the Indian Council for Cultural Relations (ICCR), India's Ambassador to UNESCO, Chairman of the Auroville Foundation and of the Temple of Understanding, and the Chairman of the Foreign Affairs Cell of the Congress Party. Dr Karan Singh received the Padma Vibhushan in 2005.
Educated at Doon School in Dehradun, he earned his graduate, post-graduate, and doctoral degrees from Delhi University. He is the only former ruler of a princely state to have voluntarily surrendered his privy purse. He put the entire sum into the Hari-Tara Charitable Trust, named after his parents, in 1969 – long before the Privy Purse was abolished.
A revered scholar and an educationist, Dr Karan Singh has been the Chancellor of the Jammu and Kashmir University, the Banaras Hindu University, and Jawaharlal Nehru University. He heads several interfaith organisations, is an avid reader, a writer, a vocalist, a composer, and more. He is as much at home with Dogri folk songs and devotional hymns as he is with Dire Straits, and Dave Brubeck.
Today, at the age of 8o, he is till politically active and most certainly has the most eclectic, the longest, the most meaningful, and an absolutely spotless resume in the entire Indian parliament.
Roopa Bakshi talks to the modern renaissance man Dr Karan Singh in a wide-ranging conversation about the state of the nation. A scholar of religion, passionate about interfaith harmony, Dr Karan Singh speaks on contemporary politics, the importance of value-based education, and the need for consensus in our society.
Read the entire article in the print edition of The South Asian Life & Times
subscribe@the-south-asian.com