SALT Book Picks 2011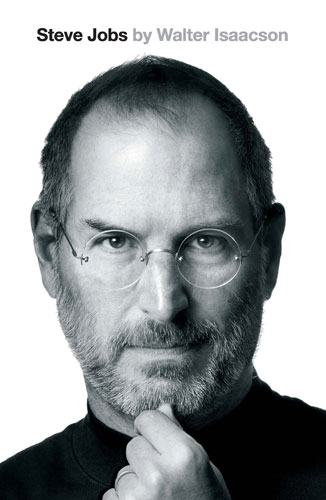 Illustrated. 630 pages. Simon & Schuster. $35.
Isaacson, the author of biographies of Einstein and Benjamin Franklin, has written a portrait of Steve Jobs - the man who shaped the world we live in - to a great extent. According to Isaacson, "The real genius of these men was that they were able to create an emotional connection with their products. Bob Dylan does the same with music; Picasso with art. It's a real genius to tie art, emotion and technology together."
In a recent interview Isaacson described Steve as contradictory. "He had a lot of contradictions in his personality. Connecting a counterculture, rebel, misfit sensibility with a business-like, engineering sensibility is part of what made him contradictory, but what also made him amazing. He approached all aspects of his life with these contradictions: his cancer, the products he made, his personal life."
Steve Jobs built Apple into the world's most valuable company. Isaacson gets you to meet the man who built Apple into the world's most valuable company.
Deeply emotionally aware of everything around him, Steve's intuitive genius and intensity was what enabled him invent amazing products. His brutal honesty with people was a by-product of his quest for the perfect product.
It is Steve's honesty that enabled Isaacson to write the book he did. Steve did not keep anything within. "He kept surprising me by insisting that he wanted no control over the book and by being remarkably open and honest about everything. I honestly kept waiting for him to kill the book but the more we talked and the more I wrote, he kept getting more and more open, and more and more emotional. He encouraged me to talk to everyone, even his adversaries."
Adopted as a new born infant by Paul and Clara Jobs, Steve said of them "they were my parents 1,000%." His biological parents, he said, were "sperm and egg bank. Nothing more." Steve praised his father Paul's traits –"He was was calm, gentle, and resolute." The first computer terminal he ever saw was when his father took him to the NASA Ames center.
The biography gives some rare insights.
Steve's appreciation for good design may have been influenced by the Eichler home in the Mountain View neighbourhood near Palo Alto in California he lived in as a child. The clean elegance of the inexpensive houses instilled in him a passion for making nicely designed products for the mass market and inspired him to create great design with simple capabilities that did not cost much. "It was the original vision for Apple. That's what we tried to do with the first Mac. That's what we did with the iPod" explained Steve to Isaacson.
Living in the Mountain View neighbourhood was exciting for Steve. By the time he was ten, HP was a blue-chip company with 9,000 employees. And subsequently Intel.
The book, in following the life of Steve, also gives insights into the growth of tech industry in California and the exponential growth of the semiconductor industry. In 1971 Intel etched a complete CPU onto one chip - the Intel 4004 – which was called a "microprocessor." Steve Jobs was just 16 at the time. The chip industry gave the region a new name – Silicon Valley USA. "Growing up, I got inspired by the history of the place," Jobs said. "That made me want to be a part of it." He also became infused with the passion of the grown-ups around him. "Most of the dads in the neighbourhood did really neat stuff, like photovoltaics and batteries and radar."
Steve's teachers played an important role in his life. His 4th grade teacher bought him a hobby kit for grinding a lens and making a camera - Steve learned more from her than any other teacher. That he was intellectually special, was obvious very early on. "My dad and the Heathkits made me believe I could build anything."
Spiritually inclined towards Zen Buddhism, Steve believed that "religion is at its best when it emphasizes spiritual experiences rather than received dogma. I think different religions are different doors to the same house." Blogs have been buzzing about the revelation that the one book the tech visionary kept on his iPad 2 was "Autobiography of a Yogi."
Commenting on his leadership, Isaacson says, "I think he truly knew that by being demanding, he was being inspiring. He created incredibly loyal teams. He convinced people that they could do the impossible. They would walk through walls for him. As a result, Apple continually made great products. Everything he did was a resolution between the misfit and the businessman, the romantic and the rational. These ended up tying together in every case. The two sides, and the fact that he is able to join them, made an amazing product: Steve Jobs."
Walter Isaacson has written a riveting story of an intense personality, whose passion for perfection revolutionized personal computers, music, phones, and tablet computing.
Read the entire article in the print edition of The South Asian Life & Times
subscribe@the-south-asian.com