SALT Book Picks 2011
NO WAY DOWN
Life and Death on K2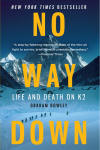 By Graham Bowley
Illustrated. 253 pp. Harper/HarperCollins Publishers. $25.99
New York Times reporter Graham Bowley has written an immensely gripping account of the front-page tragedy that hit the headlines on August 2, 2008. It was the deadliest day ever on the world's second-highest mountain. On the early morning of August 1, 2008, while it was still dark, 30 climbers from around the world – among them Koreans, Serbs, Dutch, Americans, and Sherpas - left their high altitude camp to head for the 28,251 feet K2 summit. It was a crowded field for the killer mountain. They were hoping to return before nightfall. In the early afternoon, delayed by a traffic jam at Bottleneck on their way to the summit, two men fell to their deaths. A few climbers, wisely, turned back – they realised it would get very late on the way back. But 18 climbers went ahead and reached the top of K2 very late in the day. Only nine returned to tell the tale. While the climbers were on top of the most dangerous mountain in the world, a giant serac, a few metres below them collapsed, and wiped out the fixed ladders and ropes and also set the stage for avalanches. "An already risky descent became a nightmarish free-for-all." Eleven people were killed that day. The survivors had a gruesome tale to tell.
The Dutch climber Wilco Van Rooijen, endured two nights in the Death Zone- above 25,000 feet. Lost and alone, he managed to call his wife in Netherlands, who then contacted colleagues in the Netherlands, who in turn tracked his cell phone coordinates, conveyed his whereabouts to the team and only then could Pemba Gyalje and Cas van de Gevel rescue him.
Through interviews with survivors and families Bowley has relived that day in real time in his account of that fatal day. The proof-reading of the book could have been better, but it doesn't really interfere in the reading of the engrossing book, which is difficult to put down.
It has been estimated that one in every four climbers to summit K2 dies, compared with one in 19 on Everest. It is the descent that is more dangerous.

Read the entire article in the print edition of The South Asian Life & Times
subscribe@the-south-asian.com