Mingma Sherpa
– the First South Asian to Climb All 14 of the World's Highest Peaks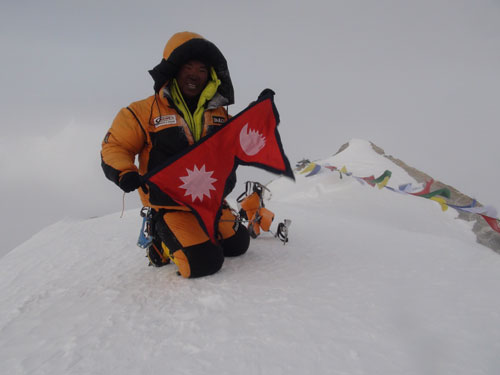 Mingma on the summit of Kanchenjunga, May 2011
On May 20, 2011, just before the monsoon season rolled in, Mingma Sherpa, the 33-year-old from Nepal, became the first South Asian to scale all 14 of the world's highest mountains - an outstanding achievement and a milestone in South Asian mountaineering history. In the process, Mingma set a world first – he climbed all 14 peaks on first attempts! The elite 8000er club is an exclusive group of 28 mountaineers who have accomplished the rare feat of climbing all 14 peaks above 8000m – and Mingma was the 24th person to do so – just before his 33rd birthday in June, when he stood atop Kangchenjunga, the third highest mountain on earth – and the last of his 14 peaks. More people have landed on the moon than have achieved or equalled Mingma's Grand Slam of Mountaineering.
Mingma is not a household name. His heroics have not been written about outside of his homeland. He has no sponsorship whatsoever. He funds his ascents himself. But determination and willpower seem attached to him like crampons.
Attempting an 8,000m peak requires extreme physical and mental endurance. Risks of avalanches, hidden crevasses, and frail snow-bridges seem trivial in the face of 'death zones' – scary and terrifying zones above 8,000 metres – where the human body begins to shut down for the lack of oxygen – and time becomes of paramount importance. This is also the most 'brutal and cold-blooded' zone on a mountain where climbers seldom help another in distress – where injured have at times been left to die. "The battle between being selfless and being selfish confronts all mountaineers at some stage. Some climbers argue that, in the death zone, morality ceases to exist: it is a brutal case of everyone for themselves", says British mountaineer Hinkes. The limited reserves of energy at that altitude are utilised to get down fast and no helicopter can reach those heights for rescue. These are the inherent risks of climbing an 8,000m peak – and to face these physically-demanding risks 14 times over requires not just superhuman courage and grit but also immense personal drive and sustained focus. Some of these 14 mountains are 'Killer Mountains' known to take a heavy toll on those who have attempted to climb them.
Reinhold Messner, the Italian mountaineer, was the first to climb all 14 peaks. It took him 16 years to accomplish this feat. Jerzy Kukuczka, the Polish alpine and high-altitude climber was the second man, after Reinhold Messner, to climb all fourteen eight-thousanders in the world – but still maintains the record for doing so in the shortest time – in 7 years and 11 months. Now Mingma created a first world record of having climbed all fourteen on first attempts – a feat that will not be easy to match.
Born in a yak shed in the tiny Sherpa village of Narbuchaur in eastern Nepal in 1978, Mingma attended the local school up to Grade V and then his formal education ended. Thereafter, he spent his time helping his parents herding and grazing yaks. Coming from a large family - he was the second born of his parents' eight children – and wanting to help his parents financially, he went to Kathmandu to work as a porter with trekking and climbing expeditions. He was only 14 years of age. Having carried expedition gear for three years, he wanted to experience, for himself, the joy of climbing and that's what he did for the following three years. He successfully summited Mera Peak (6645m) and as he stood atop the mountain, he saw the surrounding higher peaks, among them the 8000ers Mount Everest, Lhotse, and Cho Oyo. He wanted to stand atop those too! And before long he had fulfilled the first of his fourteen dreams when he set foot on the summit of Mt Manaslu in the year 2000.
SALT had the opportunity to converse with Mingma and shares excerpts of the conversation with its readers.
Read the entire article in the print edition of The South Asian Life & Times
subscribe@the-south-asian.com