SALT Book Picks 2011
Wonder of the Age
Master Painters of India
1100 – 1900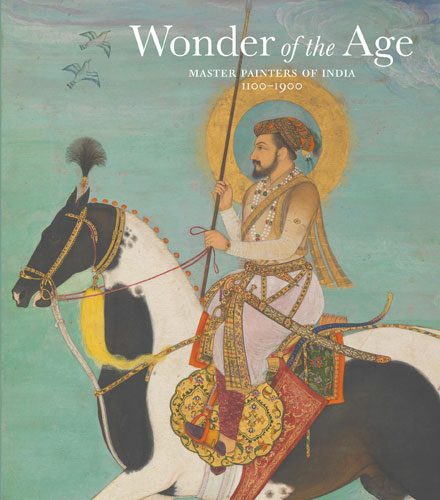 By John Guy and Jorrit Britschgi
Hardcover 224pages, 165 Illustrations; $45 Rs 2100
Published by The Metropolitan Museum of Art, New York

in association with
Mapin Publishing, Ahmedabad
Ancient and medieval paintings in India have long been associated with anonymity. There were no known names of artists hidden amidst the painted interiors of palaces and temples, or murals, or even on illustrated manuscripts written on birch bark and palm-leaf. The paintings had dynastic relevance and later, were associated with the atelier or studio of the patron ruler. The art was nameless.
Wonder of the Age dispels this myth and has painstakingly identified and named forty artists, mainly through their pictorial style and lineages. The first section of the book is devoted to artists of pre-Mughal era, who worked during the period 1100 and 1500. The second section includes artists of the Mughal courts.
Some of the forty painters identified in the book were prized painters of their time, who were bestowed with grand titles by their Mughal patrons. Akbar and Jahangir were lovers of art and had their own imperial Mughal workshops. Lineage provided a crucial link to identify some of the painters. It was not uncommon for father and son, or brothers to be working in the same Mughal atelier. Some of the names are familiar and some are making their book debut.
The works, which have been borrowed from museums and collections throughout the world, are presented chronologically and include the works of some known names such as Manohar, Abid, Mansur, Balchand, Payag, Pahari, and Nainsukh. The biography of each painter is complete with a description of their individual style, and their legacy. Hada Master, the leading painter of the new Kota school, for example, is distinguished by figure types and his characteristically robust elephants. His masterwork remains the portrait of his patron Rao Jagat Singh in a water garden with his female attendants.
The text is a tribute to the scholarship of John Guy and Jorrit Britschgi – it is an Art thriller! The handsomely produced book, with superb illustrations, is a collector's item.