Environment 2011 – The Story in Pictures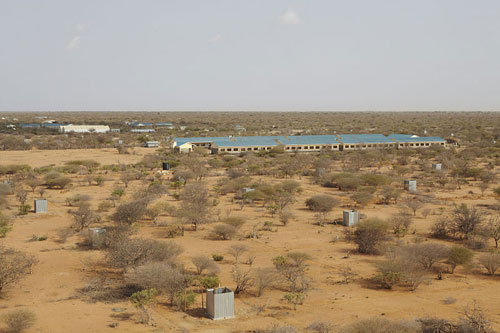 A camp for 'famine refugees' in Kenya
2011 was an ecologically devastating year. It saw natural disasters, floods, famine – and the world's second worst nuclear disaster. More than 30,000 people lost their lives due to catastrophes in the first 11 months of 2011, with the majority of those being in Japan.
The Alarming Facts
2011 saw the world population reach 7 billion
The world continued to warm throughout 2011
Catastrophic floods in Brazil, Pakistan, India, and Thailand. Over 5.5 million people were affected by flooding in Pakistan and 2 million in India.
More than 10 million people in Somalia and the Horn of Africa were affected by the worst drought in 60 years and led to the death of thousands of people and millions of animals.
The Arctic sea ice hit a record low
2011 was a year of major earthquakes. The year began with a jolt. In the first two months alone - Argentina, Chile, Iran, Pakistan, Tajikistan, Tonga, Burma, the Solomon Islands, Tonga, Sulawesi, Fiji and New Zealand were all hit by major seismic shocks. The worst – 9.1 - was the one that led to the disastrous tsunami off the coast of Japan in March. It killed 15,500 people, another 4,000 are missing, 160,000 fled the area, and it caused the meltdowns of three nuclear reactors at the Fukushima Daiichi power plant. Radiation levels, in places, remain dangerously high. Severe earthquakes also rocked India, Nepal, and Turkey later in the year.
There are now only 18-22 Siberian tigers that remain in the wild.
The Heartening Update
Deforestation in the Amazon region has fallen to its lowest level in 23 years.
Tiger population in India has increased from 1,411 in 2007 to 1,706 today. Half the world's tigers live in India.
The gorilla population in the Virunga Mountains of Africa has increased from 380 in 2003 to 480 in 2011.
The Most Admirable Conservation Initiative 2011
Yasuni National Park Saved From Oil Drilling
Located at the intersection of the Amazon rainforest, the Andean mountains, and the equator, the 3,800 square mile Yasuní National Park in Ecuador is one of the world's most biodiverse regions. A designated World Biosphere Reserve, it is also home to two native communities living in voluntary isolation.
As we go to press, news has reached us that "An alliance of European local authorities, national governments, US film stars, Japanese shops, soft drink companies and Russian foundations have stepped in to prevent oil companies exploiting 900m barrels of crude oil from the Yasuni National Park.
According to the UNDP, the "crowdfunding" initiative had raised $116m (£75m) to compensate Ecuador for not drilling the 722 square miles of "core" Amazonian rainforest for 900m barrels of oil.
The Guardian writes: "The Park is thought to have more mammal, bird, amphibian and plant species than any other spot on earth. Development of the oilfield, which was planned to take place immediately if the money had not been raised, would have inevitably led to ecological devastation and the eventual release of over 400m tonnes of CO2."
Read the entire article in the print edition of The South Asian Life & Times
subscribe@the-south-asian.com